Blackbird Designs - I love the style of these designers!
Autumn Song
Stitched on 32 Light Sand linen and mounted on a photo album as a gift for dear Barbara.
Moon Garden by Blackbird Designs
Stitched on 30ct 18th Century Rook by R&R Reproductions with recommended GAST threads
Chatelaine Designs - designed by Martina Weber
Alpine Seasons Garden


Stitched on 32ct Pirongia Mist from Countrystitch using recommended variegated silks and subbing DMC for NPI
Quaker Diamonds by Rosewood Manor
Stitched on 40ct Mello from Picture This Plus using one strand of Valdani thread
Other stitching photos are here...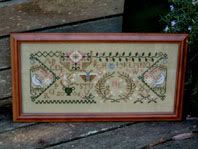 See Ravelry for knitting pics!