Book review - Seeing a Large Cat by Elizabeth Peters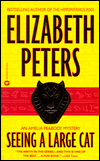 Published:
Warner books, 1997
Genre:
Mystery/amateur sleuth/historical
Synopsis:
It's 1903 and Amelia Peabody and her family are once more embroiled in murder and mystery among the tombs of the Valleys of the Kings. Pleas for help from an old friend, a colonel with a spoilt daughter, and the exploits of her children and handsome husband all add up to a rather more exciting season than expected.
What did I think?
Why on earth didn't someone tell me about Elizabeth Peters and Amelia Peabody years ago! I love mysteries. A bit of romance is always good. And ancient history is one of my loves. Mix all three, with some adventure a la Indiana Jones, and you get a fantastic tale. Add Elizabeth Peter's dry humor and witty writing and what more could you want?!
Would I recommend?
Yes! Yes!
Would I read again?
Definitely.
Score?
4 out of 5. Not quite unputdownable, but very nearly.